With our status, what can we offer you?
We are one of the longest standing coverholders at Lloyd's in Switzerland. Our Swiss values, such as confidentiality, trust, conscientiousness and security, are the keys to our success.
With our major binding authority agreements, and our perfect knowledge of the market, we are able to design exclusive, complex insurance products.
We are able to offer you, from Switzerland, worldwide coverage in the currency of your choice.
Assurance Service SA is a member of the Lloyd's Swiss Brokers Association (LSBA), an association in private law whose members are authorized Lloyd's Brokers in Switzerland.

What is Lloyd's of London?
Lloyd's is firstly a market, not a firm as could be imagined, and was created in 1688. Thus, it can be considered to be one of the founding fathers of modern insurance. It has weathered storms of all types, from the last naval battles of the 19th century to the San Francisco earthquake in 1906 and the 11 billion disbursed following the September 2001 attacks.
Lloyd's was also the insurer of the Titanic and issued the first car insurance contract: an insurance contract for a "ship navigating on land". Lloyd's is the insurer in all specialist areas such as aerospace, cutting-edge technology, heavy industries and renewable energies, to only cite a few, and also offers coverage for specific, rather unusual risks such as the insurance of famous voices, or even the legs of actresses or athletes.
Lloyd's underwrites specialised insurance covering risks anywhere in the world.
Lloyd's market today is :
Talents
An unmatched concentration of talented specialists for designing insurance contracts
€38.3 billion
Gross premiums totalling €38.3 billion (2017)
90+ coverholders
brokers mandated by Lloyd's
200+ countries
Active presence in more than 200 countries
How does the market function?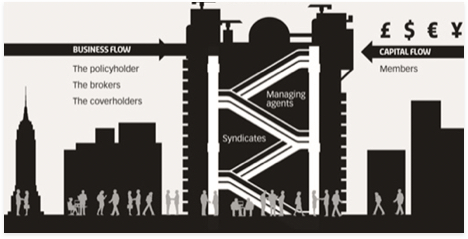 Lloyd's registered brokers
They are located in London and place the risks from coverholders or open market correspondents with the syndicates. They use their specialised knowledge of the market to negotiate the coverholders' delegated authorities, the placing of contracts of open market correspondents or the placing of very specific insurance contracts.
Coverholders at Lloyd's
(that is to say the brokers with Lloyd's delegated authority)
They are authorised by the syndicates to conclude and manage insurance contracts with their support according to the delegated authorities (or "Binding Authority Agreements"), entrusted to them.
Lloyd's Open Market Correspondents – OMCs
(that is to say the local brokers)
They have no delegated authority. They access the market via the coverholders, or the registered brokers at Lloyd's, who inform them on the insurance conditions to be applied for each file.